by Theresa Wolfwood
Message #1:     Greetings from Nairobi
Lovely and sunny and not too hot, thanks to the altitude. This is our third WSF, we have attended previously in Porto Alegre, Brazil & Mumbai, India. The WSF was born in Brazil – social movements organized it as an alternative gathering to the world economic forum which was held in Davos, Switzerland for the powerful & rich of the world. The World Social Forum is open to anyone & any group committed to democratic peaceful change for a better world. The idea that 'another world is possible' has grown and spread around the world. There are regional forums in many places as well as the main one.  In Nairobi, the WSF ended on Friday with an immense outpouring of energy and optimism in nearly all delegates, particularly the Kenyans working at the community level. The opening and closing were in Uhuru (freedom) Park near our friendly little hotel downtown. Both events had wonderful speakers including Wangari Maathai, & Desmond Tutu, Nobel Prize winners. The park is planted with new trees by the Greenbelt Movement, to honour those who died in   the liberation struggle. African musicians were amazing in their powerful and graceful music- singing, dancing and playing many instruments. In the crowd local people talked freely and were interested in my banners and our issues. We also met friends from all over – Europe, Philippines, India and Canada. There was a long march- rally from the forum site to downtown at the end, entering town on a major highway – mainly local people – poverty & slum groups, wanting land & services.
The forum itself was at the sports complex, 10 km. from town. It is a magnificent place with many facilities and a stadium that seats 60,000. Such complexes seem to be the lasting memorial of ambitious politicians everywhere. However this was the best site for a WSF I have attended. Lots of meeting rooms in the divided up stadium, a circle of small spaces and big tents for large events, a comfortable food court, and plenty of space to walk around & visit all the displays of groups from all over. And space for frequent demonstrations of all kinds, against wars in Sudan, Palestine, Somalia,
Iraq, Afghanistan etc. to women demanding their rights, to local community groups and rural pastoralists defending their right to communal land, were all demanding to be heard and recognized. The right to land is a global issue and one that gave birth to the Zapatista movement in Chiapas, Mexico and more recently to resistance in Oaxaca as well. That the bushmen of Botswana won a court case giving them the right to return to live on their communal land (see my article on 
www.bbcf.ca
 & January issue of Third World Resurgence) is an inspiration for many others struggling for land rights.
The WSF process is similar in different places – open forums & many workshops and panels, place is the major factor in the content and form of a WSF, so that this one was distinctly weighted as it should be, towards Africa; but the rest of the world is present also – the Madres of the Plaza de Mayo of Argentina were there and there was a big event on the Cuban 5 – the Cuban men who are being held in a USA jail.  Many of the groups from India that we saw in Mumbai were also present – the Dalits, once called the 'untouchables', Indian farmers and urban activists.  For the first time we saw Chinese and Vietnamese information stalls.
It is always hard to choose from the hundreds of events offered at these forums. So we started and were with those we are connected with – the anti-war groups, Women in Black and the No Foreign Bases network which organized several events, one I facilitated and was able to compare Canada & the Philippines which supposedly both have no foreign bases, but have such friendly agreements with USA, (Canada through NATO & NORAD)  that land, water and air are available for USA military anytime, to identifiable bases like Diego Garcia and new USA bases in Eastern Europe to some European bases in Africa & elsewhere – but it is the USA that has 700 bases in many countries. Herbert Docena of the Philippines founded this network & (later – an international conference in Ecuador in March had 400 from 50 countries in attendance – in a country that says it will end the agreement for the USA base there.)
Even Canadians attending had never heard of Leitrim, Ontario, part of the USA's global electronic spy network. We had several African speakers talking about bases in West Africa, Djibouti and even a UK base in Kenya as well as the social & environmental effects of various installations, dumping grounds and visits of foreign warships-sounds like Victoria with our port visits.
 There will soon be joint USA-Kenya naval manoeuvres.  Violence against women is inevitable in all these military events as well as other forms of social disruption in home ports. A clear statement came out of our anti-war assembly, expressing consensus on wars in Asia & Africa – all foreign troops should go home, opposition to possible military intervention in Sudan and the loss of human rights in many places with war as an excuse. Africans are concerned about the recent USA military moves toward Africa.
Rezan, a woman from Palestine whose group, ARAB GROUP for The PROTECTION of TREES,  (see: www.apnature.org) replants trees that have been destroyed by the Israelis – the group has an excellent DVD, 2 Kenyan peace activists trying to raise the issues of militarization in a country much preoccupied with more obvious concerns, Walden Bello from Philippines and Demeter, a young woman from Greece, were impressive among many others. The speakers at small events were most engaging & we did not get to many big events with 'big name' speakers.
We heard from activists who live and work inside & outside Iraq to build a non-violent civil society, and how the new constitution deliberately divides people on ethnic & religious lines to foment  conflict; the Iraq oil workers union's strong opposition to USA occupation & the proposed privatization of Iraq oil – brave people speaking out. Paola from Italy and Eva from UK spoke with Ismaeel from Iraq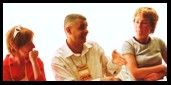 about the greater plan of the USA-UK to re-map the Middle East & the plan to privatize the Iraqi oil industry. They emphasized the need to build international pressure for an end to the  occupation & to give civil society the space & freedom to develop in Iraq.
We caught up with Pat Mooney from Manitoba at his workshop on the story of Canadian government's efforts to revive the Terminator Seed (self-sterility of plants). As Canada wages war for USA in Afghanistan it engages in an agricultural Afghanistan for the USA government & Monsanto. He urges us to act before the next international conference in 2008 in Germany where our reps. will try again. We met Lise from Ottawa, I knew her years ago – she works for the Unitarian Service Committee of Canada now, which is taking a strong stand on biotechnology – at his workshop as well.
The next G-8 meeting will be at a Baltic beach resort we visited last year – in June this year. They will build a 20 km fence 2.5 m high around this resort. The resistance meetings are planned for Rostock, nearby. Europeans told us that all European countries are becoming more & more war makers & elitist, with little change through elections. Europe is not providing a counter-balance to the USA as some hoped. However, Latin America is an inspiring model for many!
We met with Jubilee activists -trying to get minority world governments to keep promises to cancel majority world debts – and all the debts without neoliberal strings attached. It was great to hear Noel Cabangon 
(on the left
) from Philippines sing his songs on those issues – he is on the Art in Resistance CD with me a result of  a workshop at Mumbai WSF  – we met first in Mumbai. He is hoping to come to Canada to perform in Folk festivals next year.
I missed the poet Dennis Brutus because our events overlapped so I left a note & Elizabeth Mayne's poetry book with him. For many around the world, a major issue is food security from Brazil MST activists, Via Campesina farmers (an international movement to which Canada's National Farm Union belongs) and pastoralist Africans who are loosing their communal lands and ability to feed themselves. We learned that there is strong Kenyan movement for organic farming & I was given a nice bag of millet & amaranth to make porridge to keep up my strength and retain my youthful vigour.  There were many events and displays & sales of Fair Trade products – and action on boycotts from Shell to Coke. Even in Africa consumers have power – the rural areas are plastered with Coke advertisements.
Women's groups were very visible at the forum particularly on issues around HIV/AIDS, violence against women, women's legal rights and
the ugly reality of female sexual mutilation. To be a strong woman in Africa is a formidable task & the women who do succeed – and there are many – are awesome in their strength and courage. They are an incredible inspiration.
A wonderful woman from Swaziland came to our Women in Black workshop – we learned about the tyranny of the absolute monarch there and his constant capture of young girls, which is further imitated by his appointed chiefs. The royalists are in total control of jobs, land and culture. People like her who oppose the king & want democracy are beaten & jailed & can never find work.
The country has the highest HIV+ rate in Africa – about 50% – it is rumoured the king has it and spreads it with his appalling promiscuity.  We went to the Swazi's workshop and were very moved by their courage & the clarity of their vision. I promised to write an article about their struggles for 'good governance' there.
A woman from Lesotho told us about their mobile video van that travels all over this mountainous land showing videos on AIDs, the new dam to provide water for South Africa (displacing thousands) and other important ISSUES – every videos is followed by discussion & action planning, often with people featured in the film. A great project.
There is much more and more! For now all I can say is, follow the African example – don't agonize; organize! And do it now!
Dear Friends, We are still in Nairobi & I'd like to tell you what we've done since the Forum ended. The last two days we have visited projects here and around Nairobi with our friend, Wanjiku. We met many women, young people and children who are full of action & hope for the future.
So many of you gave me money & goods before we left – I want you to know that your donations are going to worthwhile projects where they are desperately needed. I delivered the donated T-shirts & women's undies along with a suitcase of requested medical supplies – aspirin, multivitamins, polysporin, etc. & rubber gloves (many children are HIV+ so the nurse & workers must be careful when treating injuries.) These products are more expensive here than the price we paid in Canada so you can imagine how precious they are.
We started our journey into the reality of Nairobi on Friday with our friend Wanjiku who founded the Maji Mazuri Centre almost 20 years ago to empower unemployed, women – single mothers & those fleeing domestic violence. Her work has spread to respond to many needs.
In the slum of Mathare Valley – about 600,000 people live in an area smaller than the elegant sports complex where the World Social Forum met – which holds 60,000.  There was an outbreak of gang violence in December in the valley and about 20 people died, including some women from MMC. The gangs also set fire to part of the slum & the centre's facility there was completely burned down. Fortunately another place has been rented – for a month 300 people sheltered there until they found housing again – with the help of many  who sent emergency relief funds.
The facility is now being used as the burned one was, for the micro-economic project. Over 400 people, 80% women, have been trained & given small loans. We met women who run shops, & sewing centres, a trained trauma counsellor & a man with a small cafe
The space also has the 'headstart' programme for nursery-kindergarten groups who are children of women in training programs or who are working & need child care. The children get a hearty lunch & several 'teas' a day & get early education – learning their letters etc. The facility is spotless & children also learn basic hygiene & the nurse from the other centre goes there one day a week. We also visited the sewing centre where women were preparing for their final exams in dressmaking.
MMC now employs 40 people & they are carefully screened to ensure they are loving & caring as well as trained as teachers & therapists.
We visited the MMC home a few kilometres  away outside the valley. We were there 7 years ago & it has expanded up & out. We also reached it by a new paved road (it got paved after locals demonstrated & lobbied their new MP). Kenyans we talked to are very optimistic about the new government. Corruption has been revealed & condemned. Funds are reaching the community level – roads in poor areas are getting attention – street lights everywhere make it a safer city, and general cleanup services have improved. Water & power is slowly reaching poor areas.

This original centre, which still shelters battered women & housed many homeless after the fire, is home for 53 resident children – many abandoned or found- handicapped & many with HIV+. Others apply to place their special needs children there & sponsors are sought for them. The staff do amazing work – primary education, physiotherapy, nutrition & dignified care & comfort -they also get drama, art & music lessons.
They are starting a computer class for older kids – the volunteer teacher is a young man, Nicholas who was originally rescued from the street – crippled with no mobility. He now walks with crutches & gets his BA soon; then he will teach at MMC for a year before he applies to law school. Another woman who is a primary teacher & the handicraft teacher are both "graduates" of MMC & teach in wheelchairs.
I asked about the composting project we saw last time with street boys who committed petty crime & sniffed gasoline. 3 are in the UK on scholarships & send money back to families as well as sponsoring children at MMC & its school. The rest have retrained & have jobs here. The composting project is now combined with a gardening project so women can grow food & sell the excess.
Much more in next message – we went to 3 schools & met several youth projects. The young people are very full of energy, hope & self-discipline.  Again – your help has been appreciated & funds & goods are well used. I am holding back some $ to give to a women's support group in Uganda & the Masai girl's project.
We have met with Agnes who runs a safe home & project for girls to protect & support them if they choose to refuse Female genital mutilation or early arranged marriages. Both are still common among the Masai, but Agnes says education & public attention are changing these customs. We will go to visit her centre in 2 weeks when we return from Uganda – we leave soon for Kampala by 12 hour bus down into the Rift Valley & around Lake Victoria.  Love from Africa, Terry
UGANDA REPORT  Message #3 
We have just had a full & interesting 10 days in Uganda.
We left the high plateau of Nairobi and descended into the rift valley through many micro climates and vegetation zones before we reached Kampala on Lake Victoria 13 hours later. We were on a very comfortable bus which managed the terrible roads with ease & we were absorbed by the changing scene we passed through. From the highland farms around Nairobi – with many villages and small farms we passed through pine forests, tea plantations, acacia thorn savannah, potato country – the road was lined with vendors with potatoes arranged in perfect pyramids. As we crossed into Uganda & went lower, we saw monkeys & baboons in tropical forests, rice paddies, sugar, and banana farms as weentered Kampala.   Uganda is lush and tropical – it floats on a massive water table fed by waters of Lake Victoria and the headwaters of the White Nile – there are miles of papyrus swamps. Not surprisingly the major health problem here is malaria – the reason whites did not settle here as they did in Kenya.  We stayed with our friend Betty on one of the hills that Kampala sprawls on – we had to get used to the power and water stoppages at irregular intervals.
I was a guest at Femrite, an organization for women writers. I went to one of its writers groups and met a number of well known & very good Ugandan writers. I heard their powerful poetry & I read some of my poetry & the discussion was very intense & lively.
Betty lives near a Cultural Centre & we went to an Afro-jazz concert, combining modern & traditional instruments & the gorgeous lead singer made us all get up and sing & dance round the bonfire in the outdoor amphitheatre. The locals all did it with grace & skill – we fumbled along, trying our best. Music, song & dance is such an integral part of Ugandan society, it is ingrained from childhood. A few nights later we went to a very good play here about the perils & soullessness of modern society – very political as well as emotional. It held us for almost 4 hour without a break – words, action & song & dance brilliantly directed.
We met with an ex-MP I had met in 2000 and we had a long talk about empowering women & food security at the grassroots. This may seem strange as Uganda has much land, soil & water & clan ownership of land but the government is about to sign a free trade agreement with the EU, which if Mexico is any example, will threaten the security of local food & small farmers. We learned more about that when we went to Betty's home village.
It took many hours of cramped, bone jarring travel in several vehicles to reach the village. We had a break in the city of Mbale and lunch with Betty's brother & wife who are trying to make a living on mixed farming including coffee & fish  – tilapia & catfish – all organically raised.
Bushunya village is in the foothills of Mt. Elgon & is a beautiful place with no electricity & poor mobile phone reception (the usual universality of which can drive one crazy) No TV, mobile phones  or noise! Heaven for us. We slept well until the roosters woke up. Betty's mother & relatives were most welcoming & we toured the village (where Christians & Muslims live side by side in peace) meeting people & looking at the gardens – coffee grown under bananas, the cash crops – with many vegetables intermixed. Beans, groundnuts and sesame are a big part of their diet & they can cook them and the many vegetables extremely well. fresh bananas,  pineapples, mangos & passion fruit everywhere. We ate well!
Betty had asked the local farmers group if they would meet us. When we arrived at the small office, a big crowd broke into beautiful singing of welcoming songs with sophisticated harmonies and clear voices. The chair, the local midwife, told us that the group had 100 women members & 50 men. They originally formed to do group marketing of their crops to get a better price & transport. Then they started to have workshops on sustainable methods & food security, providing adult literacy and life skills teaching, they have developed bee-keeping, selling honey & candles. Many members are widows and have extra needs which the group can help respond to – counselling when their husbands die, help in getting income generating going & helping orphans with only a mother or those who are placed with relatives. (Orphanages are not common in Uganda – the clan network is still strong) About 10% of members are HIV+. That is a little less than the national average. Years of education & public awareness mean that Uganda has a lower HIV rate than many   countries & has kept the incidence down in Uganda.
HIV+ members are given support & help to get drugs, supplements at clinics & support from the national group, TASO, that we met with in 2000 in Kampala.
The farmer's group also helps to provide school uniforms, supplies, shoes, blankets, medications etc to nearly 100 orphans in the village. They have done this all by their own efforts without any outside help. They were surprised and delighted to receive the approx. $200 CA we gave them of your donations (along with some school supplies & condoms) as the new school term was about to start & tho' state primary school is supposedly free – the children have to bring all books & supplies & wear uniforms. We also learned that this group competes & wins in regional & national singing competitions – I wished I'd brought a tape recorder. They understand the unity that is built by being creative & having pleasure together & for the orphans they organize games days with small prizes. The Kenyan Nobel prize winner, Wangari Maathai said that solutions to African problems must come from Africans & this group certainly exemplified this very important statement.
Unfortunately the national government does little for most people – it is very neoliberal & business oriented and gets 50% of its income from foreign loans & grants. This dependence means Uganda also is willing to send the Uganda army to the Congo, Somalia & Sudan at the bequest of the USA (so what is our excuse for being in Afghanistan?) Ugandans are encouraged by the government to enlist in private USA security firms in Iraq & send $ home. Ugandans are land-rich & cash poor, so subsistence farmers have to organize to protect themselves & their ability to get decent prices for what they can sell. The possibility of highly subsidized European food flooding their markets at low prices has not been part of the public dialogue on Free Trade.                                                     
These people are resilient & hard-working & used to self-sufficiency – they want a better world for their children & consider education vital. Much of every family's resources go to fees for secondary school. The last money we gave to Betty will go towards school fees for a girl whose farmer parents had crop failure due to changing weather patterns & heavy rains in December. Uganda is a beautiful country, rarely visited by foreigners. In a few days we will send another message about schools, projects & young people in Kenya before we go to Egypt.          
BACK IN KENYA   Message #4
"Africa is a mess and it is not going to get better soon". That is the opening quote from an article in a liberal Canadian magazine that I read just before my trip started. Apart from being arrogant & insulting, this statement is wrong & helps perpetuate the myth of helpless Africa needing our help. My observation is that most Africans are very determined and hopeful that "a better world is possible" and they act on it. I have been told many times that despair is a "minority world" luxury.
In every African country I have visited in the last 20 years, a major concern for parents has been education for their children. Parents will work at several jobs & sacrifice themselves to send their children to school. There are some free state schools, usually crowded and ill-equipped. Students at these and the many private schools must provide their own uniform & supplies. Nearly all high schools are privately run.
And people are also expecting action from their government in Kenya. Kenya elected a new government 3 years ago – since then, there has been a crack down on corruption & community activists say that funds are reaching communities. In Nairobi, street lights have been erected, roads have been repaired, new public buses are on the road & and safety standards for vehicles – including seat belts, max. passenger numbers in "matatu" vans & fines for using mobile phones while driving are enforced by an increased police presence. The numbers of deaths in road accidents are have deceased. And for locals & foreigners, this is a major cause of death. People feel safer on their streets and in public places than they have for years. More Kenyans are coming home from education abroad to live & work here.
Apart from small scale solidarity and support we can offer and Africans are grateful for this – they carry on no matter what. We need to examine the policies our own governments use – from support for corrupt governments,  supporting arms companies which sell arms here, intervention to protect resources for our consumption that end in conflict & civil war, and our support for  trade agreements and loan conditions that cripple public services. Oil is being discovered in many more African countries but so far citizens get little benefit from this resource. We pay very little for the natural resources we get from Africa but we sell back to them goods at higher prices than we pay in Canada.
Our government supports the WTO, IMF and World Bank which impose stringent conditions for trade & development – a load carried by the majority of the population who can least afford it. We hear a lot about HIV/AIDS in Africa in Canada, but it is just one of the health problems faced here. Malaria is still the major disease in Africa, research for a vaccine is not publicly funded & patent laws which Canada supports keep the prices for present treatment too high for many Africans. So I keep these realities in mind when I visit with grassroots groups that work at a very local level without help from the big NGOs whose well dressed employees are referred to as 'briefcase staffers' who come between the donors & the recipients and who may block effective support for the grassroots.
We travelled this week to Masai land in the wide acacia savannah. It has rained heavily lately so the grass is lush & high; many small trees are coming up, after 3 long years of drought. Herds of zebras & gazelles & giraffes graze with the cattle, very much like we see deer on Hornby Island.
We went to visit a girl rescue centre started by a group of Masai women who wanted to give girls a chance to refuse female genital mutilation, (FGM), and forced early marriage. The group has a public health education programme with peer counsellors in many villages who talk about short & long term dangers & pain of this practice. Many parents agree & the centre has a 5 day event for girls as an alternate rite of passage to womanhood – a celebration where they come together to learn from elders about  women's  issues, feast, sing & dance & the parents attend the closing ceremony on the last day. Some parents try to force their girls to have FGM which is illegal, so girls can seek safety in the centre which operates in accordance with the Child Protection Law. Girls who come are counselled and assessed. The centre has a reconciliation process to help parents accept their daughter's right to make their own choices – many do agree and want the girls to get an education & postpone marriage until they are independent. Some need upgrading and tutoring to get into school. The centre sends girls who want an education to a safe boarding school; those who are not academically inclined are offered other training.  We met Sophie who is training to be a seamstress and working towards getting her own sewing machine. We met other girls who had just come to the Centre & were adapting to their new life.
Agnes, the director, was herself a victim of FGM, she is driven by her passion to end this custom & when she started her group could not even mention the "cut" it was taboo. Then women started to speak out & wanted to work to end it.
The group places the issue of FGM in a holistic picture of women's present health issues, future trauma, child birth and the well being of the family & the community. Information about HIV/AIDS, sexual disease and healthcare, family planning are presented to students as part of an overall learning experience..
During the recent drought, women drifted into towns looking for money & work to feed their families, the possibility of entering the sex trade was one of few options available, so the centre started a collective of women (now 2) that operate a donated grain mill. They make all the decisions about salaries, expenses, maintenance together & while they wait for customers they do handicrafts. One of these women is a former circumciser & is happy to give up that role and work cooperatively in the 'posha mill'.
We were happy to make a donation to this centre & enable it to help more girls. Their main building was funded by a donation from Eve Ensler, creator of the Vagina Monologue but operating funds are always needed.
When we were at the World Social Forum we met a young photographer, Mohammud, who lives in another of the 3 big slums, Korogocho, in Nairobi. He invited us for a visit and we went to a number of homes. We met his neighbours – a group of women who were making henna designs on their hand & feet before a wedding Mohammud was going to video; they were having a great time & I wanted to linger & get my hands & feet painted.
We went on to a church service & met the pastor who started a small school in the church & is running a feeding program for orphans, he and Mohammud, whom he introduced as his Islamic friend to the congregation, are starting a training & employment projects – composting & printing workshops for young people- mainly AIDS orphans – who are sniffing glue & trying to get them off their addiction (which destroys the liver) by getting them training & later into schools operated by the church  called 'A shelter of hope'.
Mohammud is also in a music group that performed at the WSF & they are going to try to get the glue sniffers interested in music. We made a donation to this wonderful work. The slum was pretty awful, full of broken promises of NGOs, poor sanitation & crowding, but people struggle & live dignified lives and we were treated with welcome & respect by the people we met. A youth  empowerment group, housed in an old container, runs rape protection programmes, works on crime issues, gives workshops in health concerns, legal rights, computers & self-esteem & many issues,  particularly for girls, raises its budget with an annual dinner. The group's most recent initiative is a radio station which
broadcasts music interspersed with public service announcement about social concerns, self-help, health, safety, and legal issues. They were inspired by Brazil's community radio stations to found their own. They train their workers on equipment donated by individual foreigners & sell T-shirts to advertise the station & make money
Nairobi  Message #5
Dear Friends, We are leaving Kenya soon &before we go, I want to tell you more about Wanjiku and her work. This remarkable woman gave up her secure career as an academic to work with women in the slums of Nairobi, 20 years ago. Since then she has helped over 300 women gain employment through training & micro-credit. I told you about her centre for the children of working women which gives children up to age of 6 a "headstart" in early education, a safe place during the day & nutritious meals.
Recently she has taken on a number of orphans as well whose relatives are working & cannot care for the children during the day. I also wrote about her home for disabled children where children are given medical treatment, physiotherapy and appropriate education. In the twenty years she has seen many of these children grow up and get education & jobs; she now employs some of them as staff.
Wanjiku's passion is empowering women and youth. The women's projects continue to grow. In the Mathare Valley slum she started a teen group and a youth group & we visited them in their meeting space. They have computers, a small library, regular music programs and they perform dramas they create themselves about social issues in the community. These young people also attend and conduct workshops on health, political and social issues. They are expected to counsel and tutor younger children, visit & help the elderly and sick & do community clean ups. Many of these young people have earned scholarship in Kenya & abroad & have graduated to jobs in the city and return to volunteer at the groups.
Mazi Mazuri Centre has also founded several schools out of the city. One, a day primary school for poor Masai children, is now operated by a parent's committee in the community, Metasia; an adjoining high school run by MMC for boarders has many sponsored students from the slums as well as children from the area. It is another initiative to keep Masai kids in school & prevent early marriage, and a drift to the city. 
It is in a lovely area near Karen -many rich farmers – the students are children of workers on these farms or poor peasants as well as orphans from the slums.
Wanjiku's dream is to create reverse-migration so she has built a school and farm on donated land further out in Masai land at Kaseri. Women and youth at risk are learning to farm & market produce as well as building trades and other life skills. The school was opened in response to the local people's wish as there was no school in the area. She dreams of creating a self-sustaining community there with ongoing teaching & farming. The place has a well and a waterhole so local people can access water close by & water their livestock
We really have been overwhelmed by her energy & vision – and the results. We learned about a girl who needed to get out of the slum, her mother died recently  of AIDS & her dying father – whom MMC has been providing with medicine & food – has begged Wanjiku to help Jackline get a high school education. Her older sisters went through the MMC women's program & have small food stalls & they care for a younger sibling but cannot afford to help Jackline. The sex trade seemed to be her fate.
Wanjiku started her in Metasia high school when the new term started last week. When Gerd & I decided to sponsor her for the next 4 years – she was both depressed & traumatized by her mother's death & the uncertainty of her future – so she was very happy when she learned her education was secured. We have never done this before, but it seemed the right thing to do & our contribution also helps with general school expenses.
For those who are interested in supporting the projects we visited in Kenya & Uganda we have banking information & BBCF can easily forward donations or we can pass on details to you.   Any amounts are welcomed by all the groups we visited;  The Maji Mazuri Centre in Kenya, The Girls Rescue Centre in Narok, Kenya, the addiction program for young people- mainly AIDS orphans – who are sniffing glue & trying to get them off their addiction by getting them into printing workshops & later into school and the Bushunya village farmers group in Uganda.
The Maji Mazuri Centre (Canada) is in the process of being incorporated as a registered charity here so by year end we should be able to get tax receipts. It is being set up by volunteers & there will be no administration costs in Canada.
If anyone wants to commit to long term sponsorship of a child, here are the details. A preschool child in the "headstart" program who receives all day care including early childhood education, meals & healthcare while mother or guardian gets training or works is $37/month to support & that will also help Maji Mazuri Centre replace its burned down facility.
A boarding high school student is sponsored for $ 81/month; that includes her needs at school as well as care & programs in school vacation & helps the school generally.

Just in case you wonder if we did anything touristy – we did go on a one day safari around Nairobi Game Park for my birthday. We saw a lot of grazers, including our favourite giraffes, and millions of butterflies hatched in the recent rains. Just as we were leaving in a torrential downpour we stopped to watch a group of impalas & our guide spotted a lioness creeping through the grass behind them – they did detect her & bounded off before she pounced.
We also found the Alliance Française – saw a great photo exhibition there, a French mystery film and a Valentine's comedy play locally produced & very funny. We also ate the real baguettes – the first decent bread we've had in Africa. The English have to answer for spreading bad bread around the world! We had a farewell dinner with Wanjiku, some Canadian & Dutch volunteers & prepared to leave. We really loved our little hotel & were on first name basis with the staff, and became involved in their personal lives – we left sadly & promised to return.
Egypt  Message #6
This is my last message we are on our way home now. We look forward to being in our own space & community, but we will not forget all our friends in Africa. We had some days in Egypt & passed a few of them in the Hell of mass tourism in Aswan & Luxor. Although the old civilizations were amazing & the tombs, temples & treasures remaining are spectacular, the terribly crowded, superficial & hurried visits are not our taste. And the ancient seems to have no connection to modern Egyptian life except as a major source of foreign revenue.
Our trip was made much more interesting by our travelling companions –     two Chinese scholars, studying in Prague, one an architect – who had heard Arthur Erickson of Vancouver speak – and one is a lawyer studying the TRIP agreement – on intellectual property – so we had many good discussions as we shared meals & sightseeing.
The Archaeology Museum in Cairo is also very crowded with tourists but we visited a park nearby with an opera house & 3 art museums, full of exhibits – all excellent examples of stunning modern architecture with wonderful exhibitions in a quiet, almost empty, oasis of green and beauty in the middle of a noisy, bustling city – the only sound was the symphony orchestra rehearsing.
We met with some democracy & human rights activists in Cairo & learned a lot about the present situation in Egypt. It is an extremely oppressive country where dissent is not tolerated by the nearly 30 year government of Mubarak whose son is being groomed to take over. We were there when many rallies were being held globally against the USA invasion of Iraq & expected to see a rally in Tahir Square, but all we saw was paddy wagons full of riot police just in case a rally started at a nearby university. Egypt gets $3B aid from the USA every year in return for which Egypt is supposed to keep 'moderate Arab' countries in the USA camp. Egypt also allows the USA to torture suspected terrorists there. Egypt exports petroleum products to Israel at way below market price under an agreement signed with the USA. There is virtually no freedom of expression permitted there. A student blogger just got 4 years in jail for writing criticism of the government & Islam. Yet the western corporate media never mention Mubarak's corrupt family dynasty, human rights abuses or rigged elections in Egypt.
Although it is a rich & developed country, we saw the peasants delivering their sugar cane (the major crop) to factories on donkeys & work in the fields is nearly all done by hand. Peasants are leaving the land and Cairo is bursting at the seams. What democracy, anti-privatization & anti-globalization groups that do exist meet in controlled situations and have little contact with grassroots or peasants.
Finally, we were very thrilled to meet with Mourid Barghouti, the Palestinian writer who lives in exile in Egypt. I have written a review of his memoir, I SAW RAMALLAH; it is on www.bbcf.ca . You can read some of his powerful poetry on his website: http://mouridbarghouti.net. His collection, MIDNIGHT, will soon be available in English from Oxford University Press.
His wife is the distinguished Egyptian scholar & writer, Radwa Ashour. Her best known work is the trilogy, GRENADA, and the first volume is available in English from Syracuse University Press, USA. It's a great novel about the Arabs in Iberia.
And as we travelled around Egypt, I read MAP of LOVE, (nominated for the Booker Prize in 1999), a novel by Ahdaf Soueif who also translates Barghouti's works. It's the vivid love story of 2 couples, set on the landscape of Egypt of 1900 and 1997 and in the rich and complex history and geopolitics of the region; it puts into context everything from the present conflicts in the Sudan and Palestine and the past colonial oppression of European powers to the contemporary domination by international institutions and the USA. She is a wonderful writer. ( I have reviewed her book of essays,'Mezzatera' on www.bbcf.ca)
So my friends, our travels ended, we are back in Victoria, but our work continues; if you want more details or information, contact us. We hope some friends will want to help girls to get proper education.
Another world is possible; a world without AIDS & even war is possible if we work together.
Love from Terry & Gerd